OVER THE RAINBOW TOTO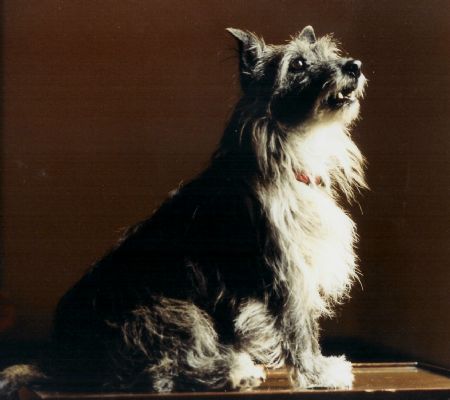 TOTO

(1988-16/7/07)
STAR OF THE WIZARD OF OZ
CDX ADM JDM ET
(Photo taken in the Melbourne Town Hall courtesy of The Age 2002)
Toto came to me at the approximate age of 6-12 mths in 1989, I purchased her from the Lost Dogs Home, after 8 weeks of intensive training, we started rehearsals for the Wizard of Oz stage show, that was hard work, especially working with people that after watching movies think that dogs will just do things, in fact the director on the first day suggested that I shouldn't be in the room as the dogs was coming to me and not stopping with Dorothy as she came running on to her mark, my reaction was if I can't see what you want how can I teach the dog!!!
Anyway Toto performed fantastically we did a full season in Melbourne where she was on stage off lead for 2 and 1/2 hours, 8 times a week. I was so very proud of her, she was a tough little dog and performed with great gusto. One of her hates was Cameron Daddo who played the Scarecrow, she bit his ankle every show, piddled on stage and he slipped in it, wiping it up with his pants. Toto had a great time, so did I.
In 1991 Toto had her CD and AD, we travelled by car with my poodle Jackie the "understudy" (thank goodness she never had to go on) to Queensland and the Performing Arts Centre there, it was very warm there and Toto took several days to adjust. As soon as rehearsals started she was very quickly back into her groove as Dorothy was played by Tamsin West again, and Bert Newton came on board as the Wizard.When we finished in Queensland in 1992 we had almost a week off before rehearsals started in Adelaide at the Performing Arts Centre, so we flew back to Melbourne and my van was shipped to Adelaide. Whilst in Melbourne I put my Pal Superdog hat on and we performed at the MCG during lunch at a one day match between Aust. and the West Indies, Toto and Jackie both had the crowd of 60,000 plus wowed as they were the little dogs of the team and my son Billy and daughter Veronica handled them. Those were the days before we had BC's, we enjoyed our short visit and then off to Adelaide for the 3 of us to a new stage.
Again Toto got back into the groove and wowed the audiences in SA, in fact she even had a fan club and I organised a paw stamp for pawgraphs and I answered lots of mail!! We used to try and escape the Arts Centre before the audience exited (we could do that as we had no costume or make-up to worry about) as the audience were very keen to pat Toto and ask me questions. Sometimes we just couldn't make it out and had to wait with the 'stars' until later.
Toto was one tough little dog and was quite keen to bite people and then ask questions later, I think because of who she was she got away with murder. The members of the Pal Superdog Team used to say, "You weren't a real Superdog Team member until Toto had bitten you!"After finishing with the show in 1992 Toto went on to join our Shopping Centre Team and again proved to be a 'star.' Toto continued to work in the Superdog team until 2002 when we were again asked to perform the Wizard of Oz again. In 2001 at 12 and 1/2 I took Toto out of retirement to the 1st Agility Nationals held in Adelaide in 2001 where she won the Novice Jumping Class showing all those fast BC's she could still run.
The producers of The Wizard of Oz had replaced Toto with a local dog in Sydney when the show started in late 2001, in fact they had 2 dogs to play the role, but I very quickly got a call to see if Toto was still around (the previous year I handled Sandy in the show Annie so they knew how to contact us as it had been 10 years since she had played the role of Toto). She again performed the role here in Melbourne and Brisbane at the age of 13 and 1/2 quite an achievement. Nikki Webster played Dorothy and Toto took to her very quickly and protected her maybe even a little too much, once having a snap at Patti Newton who played the good witch when she put her hand on Nikki to bring her closer!!
All in all Toto was a once in a lifetime dog, she was tough, courageous and very loving and loyal, I have tears in my eyes as I write this, she lived to 19 and was a huge part of my and my families life, I still miss her so very much.
rest in peace Toto, somewhere over that rainbow